How We're "Doing Church" During This Health Crisis 
Yesterday was our third week worshiping with a small group of believers over Zoom. Our church is providing members with an order of service to follow in our own homes, and we've chosen to go through it with our small group each Sunday. While we can't sing together (there's a delay that doesn't make that possible), I've loved discussing the passage together with personal application questions like,
"What are some things in life you are tempted to believe God is entitled to give to you?" (Oh boy . . . where do I start?!) 
A Timely Word from Habakkuk 
Here was yesterday's order of service if you want to use it yourself next Sunday. It was a timely word from Habakkuk 3:16-19. You've probably heard this part before:
"Though the fig tree should not blossom, nor fruit be on the vines, the produce of the olive fail and the fields yield no food, the flock be cut off from the fold and there be no herd in the stalls, yet I will rejoice in the Lord; I will take joy in the God of my salvation. God, the Lord, is my strength; he makes my feet like the deer's; he makes me tread on my high places."
Sounds glorious, as long as you're reading the words and not testing them in real life. But Habakkuk understood exactly what it would mean if the fig tree did not blossom, if the olive trees and fields did not yield food. In an agricultural society, this meant death by starvation. 
There were no backup plans. No restaurants, no grocery stores, no pantries. Our small group tried imagining such a dire situation, and we just couldn't. Unfortunately, though, it's reality right now for those in India. 
Habakkuk's Realities True in India Right Now
The entire nation is in the midst of a complete, three-week lockdown. They only had four hours notice before everything was shut down. Many of the 1.3 billion people there barely survive as it was. Now, with twenty-one days of complete lockdown, this spells starvation and death for many. Please pray. 
Maybe this paragraph from yesterday's order of service can help inform your prayers: 
"In an uncertain world, we can find joy in the certainty of God's faithfulness and sustaining care. Even if we are stripped of all else—our comforts, our security, our very life—we can never be separated from the saving love of God in Christ Jesus our LORD. The lack that we sometimes experience, the hardships we face, the chaos we go through—it all focuses our eyes on the Gospel, because the gospel is not simply about God giving his people many blessings, but about God's power to grant us the right to be reconciled to relationship with our Creator. God, in his strength, has granted to us the right to see Him and to rejoice in Him, no matter what may come."
Sidewalk Chalk Theology 
Later in the day, our family took a walk. I was intrigued by how many signs we saw around the neighborhood. 
One family had painted a sign that said, "We are all together," decorated with colorful handprints. 

Another used sidewalk chalk to mark off the distance of six feet and to encourage people to continue practicing social distancing. 

One home featured a sign in their window saying, "Things will get better."  
That last one stood out to me in light of our focus on Habakkuk that morning. Things won't get better for many. Hundreds of thousands will die. While I appreciated their desire to offer hope, it fell flat. 
After the kids were in bed, I realized we could write messages of true hope on our sidewalks. So Trevor and I hunkered down under the light of the moon and covered our sidewalks with Scripture. 
We live on a corner in the city, so we get a lot of foot traffic. Will you pray that many would receive comfort, hope, conviction—even eternal life in Jesus—through God's Words?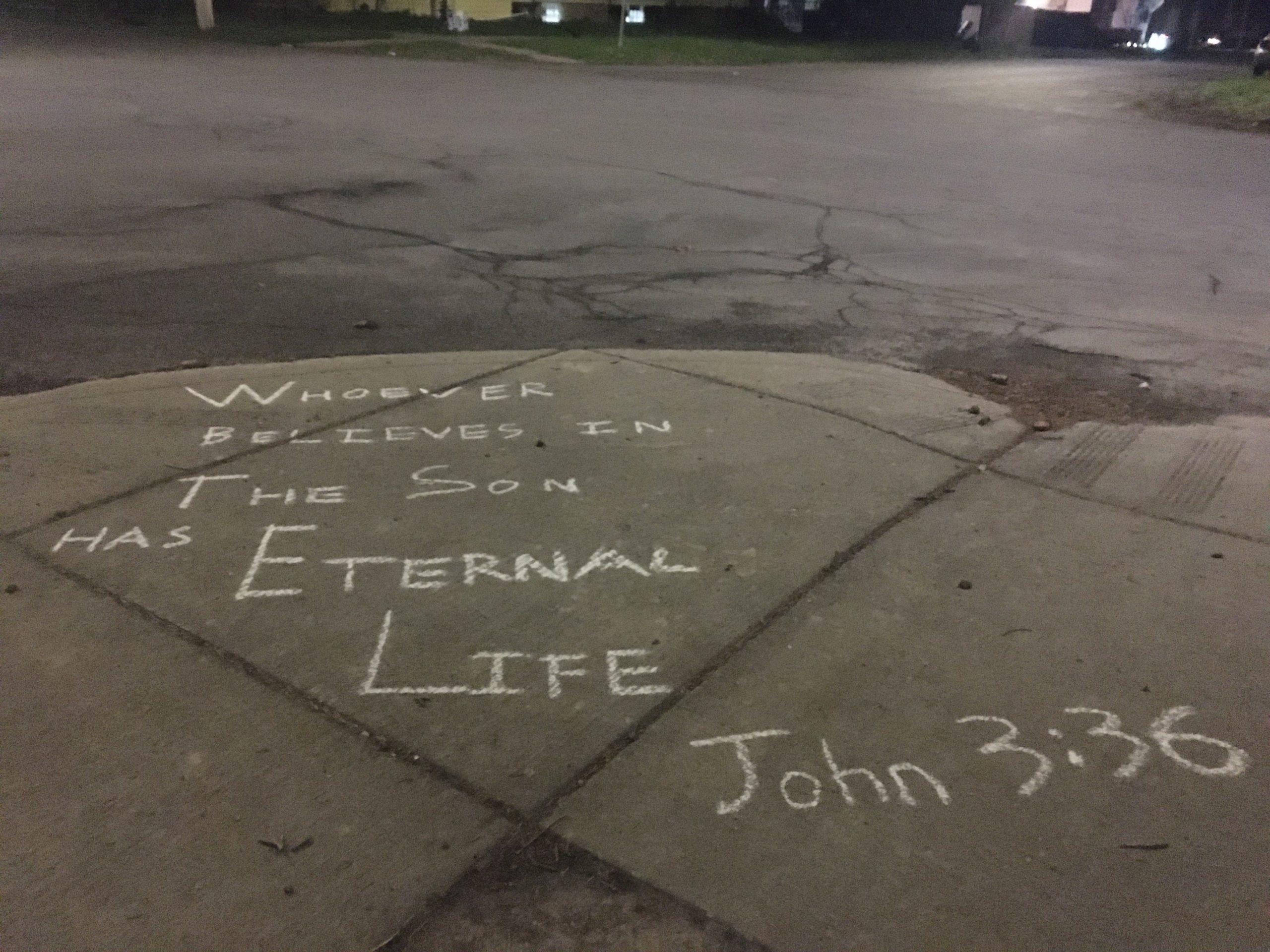 I'd Love to Hear From You
How are you worshiping God each Lord's Day during this strange time when we're unable to gather together corporately to do so? 

What are some things in life you're tempted to believe God is required to give to you?

While you're probably not facing starvation, what

are

you struggling with right now? Even if it's "little" compared to what those in India are facing, how can I be praying for and supporting you?